Corporate Social Responsibility
We are committed to operating as a socially responsible business by:
Demonstrating regard for the environment
Supporting community groups and projects
Adopting high ethical principles
Developing relationships with key stakeholders which are mutually beneficial
Endeavouring to contribute to sustainable communities.
Higher Welfare Standards
We have, for many years, sought to improve the welfare of animals and fish farmed for our own brand. We look to tackle those products that are sourced from animals reared under the most intensive systems, chicken, pork and turkey. In these large-scale, indoor rearing systems the animals can be denied the freedom to engage in natural behaviour and often suffer other welfare issues.
In recognition of this concern we developed a higher welfare standard over and above the present legal benchmark for our fresh chicken, pork and turkey. In 2007 we replaced standard fresh whole chickens with chickens reared to our higher welfare standard, and over time have rolled this out to all fresh chicken, turkey and pork.
Fairtrade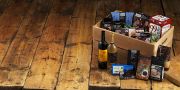 .
We're commited to making a world of difference.
We've been supporting Fairtrade since the introduction of the 'Fairtrade mark' in 1994.
Our Fairtrade own-brand wines were launched in 2001 closely followed by the introduction of Fairtrade chocolate in 2002. Since then a number of other Fairtrade products have been launched which help to support community products.