Electrical Department
The Electrical Department is situated at the back of the store next to the Post Office in the Radstock store. The department is open 08:00 to 20:00 weekdays and Saturday and 10:00 to 16:00 Sunday.
Ranges include:
---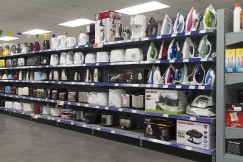 Small Domestic Appliances:
Vacuum cleaners: Upright, Cylinder, Handheld also Floor Washers and Steam Cleaners, Electric Carpet Sweepers
Microwaves: Standard, Grill and Combination models
Table-top cooking: Kettles, Toasters, Coffee Makers, Sandwich Toasters, Grills, Soup Makers, Bread Makers, Ice Cream Makers, Deep Fat Fryers, Rice Cookers, Slow Cookers, Multi-Cookers.
Food Preparation: Food Mixers, Food Processors, Juicers, Hand Blenders, Electric Tin Openers, Electric Carving Knives
Personal Care: Hair Dryers, Curlers, Straighteners, Electric Shavers, Hair Clippers
Seasonal items: Fan Heaters, Oil-filled Radiators, Electric Blankets, Fans
---
General Sundries:
Light Bulbs, Fuses, Batteries, Vacuum Bags, Adaptors, Extension Leads, Memory Sticks and Cards, Blank CDs and DVDs, Smoke Alarms
---
Notes:
Payment over the telephone is not available. Items can be reserved however.