Recipes
Back to Recipes
Breakfast Nests (V)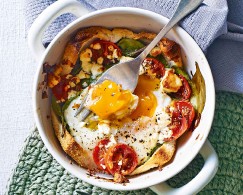 Ingredients
Co-op Unsalted Butter
2 Slices of Co-op White Bread
1 tsp Co-op Olive Oil
20g Co-op Baby Spinach
2 Co-op Piccolo Tomatoes
2 Co-op British Egg
20g Feta
Ground black pepper
---
Instructions
1. Preheat the oven to 220°C/fan 200°C/Gas 7.
2. With some Co-op Unsalted Butter grease 2 ramekins.
3. Cut the crusts off 2 slices of Co-op White Bread then flatten them slightly with a rolling pin. After, line each ramekin with a slice, pushing gently into the corners.
4. Put the ramekins on a baking tray and drizzle them with 1 tbsp of Co-op Olive Oil and bake for 5 mins.
5.
When finished, take out the oven and add 20g of Co-op Baby Spinach and the 2 Co-op piccolo tomatoes, sliced, to each nest.
6. Crack open 2 Co-op British eggs on top of each nest, adding the 20g of feta, crumbled and some ground pepper.
7. Bake for another 12 mins or until the eggs are cooked.