Recipes
Back to Recipes
Cookie Dough Pancakes (v)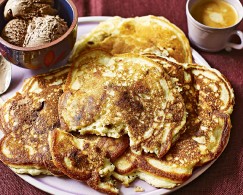 Ingredients
150ml natural yoghurt
150ml Co-op semi-skimmed milk
½ tsp vanilla extract
1 Co-op British egg yolk
1 tsp bicarbonate of soda
160g Co-op plain flour
1-2 tsp vegetable oil
10g Co-op unsalted butter
4 Co-op Co-op chocolate chip cookies
Co-op Irresistible Venezuelan chocolate ice cream
Co-op Irresistible Fairtrade espresso coffee
---
Recipe Method
1. Add the milk, natural yoghurt, vanilla extract and the egg yolk into a bowl, making sure the white is set to the side.
2. With a separate bowl, whisk the egg white until stiff and fluffy.
3. Using a large metal spoon, fold the whisked egg white into the batter.
4. Crumble the 4 cookies and mix into the batter be careful not to knock too much air out of it.
5. With a medium low heat, add the tsp of vegetable oil and the butter into a non-stick frying pan.
6. Add a quarter of the batter at a time and cook for 2-3 mins on each side, flipping in between.
7. Continue to cook the other 3/4 of the batter topping up with another tsp of vegetable oil if required.
8. Serve with a scoop of the Co-op Irresistible Venezuelan chocolate ice cream and an Irresistible Fairtrade espresso coffee on the side for the ultimate experience.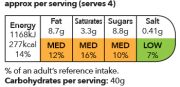 ---
See the recipe video on the Co-Operative Food YouTube channel: