Recipes
Back to Recipes
Poacher's Chocolate and Cherry Brownies
Ingredients
Serves 24 small squares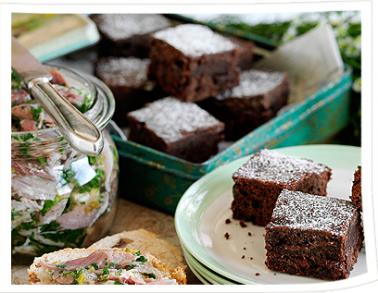 125g unsalted butter
150ml Badger Poacher's Choice Ale
150g dried cherries, roughly chopped
150g plain chocolate (70% cocoa solids), roughly chopped
200g plain flour
30g cocoa powder
1/4 tsp salt
130g light brown sugar
65g light brown muscovado sugar
2 large eggs
1 1/2 tsp vanilla extract
Icing sugar, to serve
---
Instructions
Preheat the oven to 190C, fan 170C, Gas 5.
Line a 26cm x 16cm brownie or roasting tin with baking parchment.
Place the butter, Badger Poacher's Choice Ale and cherries in a saucepan and bring to a boil over a medium heat.
Remove from the heat and stir in the chocolate until melted and put to one side to cool slightly.
In a mixing bowl, sift together the flour, cocoa powder, and salt.
In a large mixing bowl, using an electric mixer on high speed, beat together the sugars, eggs, and vanilla extract for 3 - 4 minutes until the mixture leaves a trail when the beaters are pulled out.
Reduce mixer speed to low, and beat in the melted chocolate mixture, until just combined.
Using a large metal spoon fold in the flour mixture, until just mixed.
Pour into the tin and spread out before baking in the preheated oven for 20-25 minutes, a skewer should come out a little gooey when placed in the middle, don't overcook them as they will continue to cook while cooling.
Allow to cool, then cut into 24, and dust with icing sugar to serve.
Tip: For a quick dessert, serve the brownies warmed topped with vanilla ice cream and chocolate sauce or warmed cherry compote.