Recipes
Back to Recipes
Sticky Ginger and Toffee Pudding
Ingredients
Serves 8
For the pudding: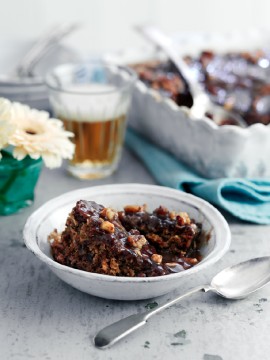 250g pitted dates, chopped
200ml Badger Blandford Flyer Ale
2 balls of stem ginger from a jar, finely chopped and 4 tbsp syrup
1 tsp bicarbonate of soda
85g salted butter, softened
75g light brown muscovado sugar
75g caster sugar
2 large eggs, beaten
1 tsp mixed spice
175g self raising flour
For the sauce:
1 ball of stem ginger, finely chopped and 2 tbsp stem ginger syrup
100g salted butter
150g light brown muscovado sugar
100ml double cream
40g walnut pieces
---
Instructions
Preheat the oven to 180C, fan 160C, gas 4.
Place the dates, Badger Blandford Flyer Ale, stem ginger and syrup in a saucepan and boil for 2 - 3 minutes to just soften the dates a little. Remove from the heat and stir in the bicarbonate of soda and cool a little.
Meanwhile using an electric whisk beat together the butter and sugars until combined well, then gradually beat in the eggs followed by the mixed spice.
Fold in the flour and date mixture using a large metal spoon.
Place in a buttered 2 litre rectangular or oval ovenproof dish and bake in the oven for 35 - 40 minutes or until a skewer comes out clean from the middle.
Meanwhile make the sauce, add all the ingredients into a saucepan and melt over a low heat, stirring occasionally until it boils.
Using a skewer, make holes all over the sponge and pour the sauce over the top of the pudding and place under a medium hot grill for 8-10 minutes or until the sauce is bubbling.
Rest for 10 minutes before serving with cream and a glass of Badger Blandford Flyer Ale.
Tip: To chop the dates and ginger quickly use a food processor.