Recipes
Back to Recipes
Sticky Poacher's Chicken Wings
Ingredients
Serves 12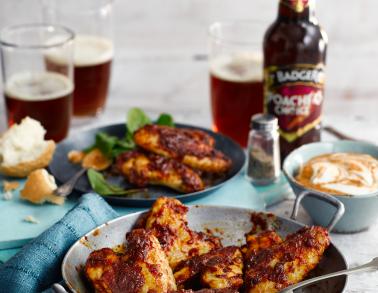 2 tbsp olive oil
6 rashers of smoked streaky bacon, cut into lardons
2 medium onions, roughly chopped
2 garlic cloves, thinly sliced
1 tsp cumin seeds
1 1/2 tsp smoked paprika
200ml Badger Poacher's Choice Ale
200g tomato ketchup
1 tbsp dark brown soft sugar
50g treacle
1 tbsp red wine vinegar
1 1/2 tsp English mustard powder
1.2 kg chicken wings, tips removed
4 tbsp maple syrup
75g natural yoghurt
Green salad, to serv
---
Instructions
1. Preheat the oven to 200C, fan 180C, Gas 6.

2. To make the sauce add the oil to a saucepan and fry the bacon and onion until golden. Add the garlic and spices and cook for 30 seconds before adding the Badger Poacher's Choice ale, tomato ketchup, sugar, treacle, vinegar and mustard powder.

3. Stir and simmer for 15 minutes until thickened, stirring occasionally. Whizz the sauce in a food processor until quite smooth.

4. Meanwhile place the chicken wings on large baking tray and bake in the oven for 20 minutes. Remove and turn the oven up to 220C, fan 200C, gas 7.

5. Place three quarters of the sauce, reserving the other quarter for the dip, with the wings in a bowl and mix well. Place the wings on a lined baking tray and cook for a further 10 minutes.

6. Remove and pour over the maple syrup and turn the wings to coat before returning to the oven for 5 - 10 minutes to become sticky.

7. Meanwhile mix the reserved sauce with the yoghurt, and serve with the sticky wings and some green salad.