Recipes
Back to Recipes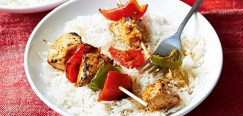 Thai Chicken Kebabs
Ingredients
385g The Co-operative diced chicken
2 heaped tbsp of Thai red curry paste
300g The Co-operative microwave basmati rice
---
Recipe method
1. Deseed the peppers and cut into chucks.
2. Mix the chicken with the curry paste, cutting the larger pieces in two.
3. Thread the meat and peppers onto 8 skewers, drizzle over a little oil and grill for 5 minutes on each side.
4. Cook the rice as directed on the packet, serve immediately.