Recipes
Back to Recipes
Traditional Crêpe Batter with Black Forest Topping (v)
Ingredients
For The Batter
300ml Co-op semi-skimmed milk
1 Co-op British egg yolk
160g Co-op plain flour
1-2 tsp vegetable oil
10g Co-op unsalted butter
For The Topping
100g Co-op Fairtrade dark chocolate
2 tbsp canned fruit in syrup
1 tbsp fat free Greek style yoghurt.
---
Recipe Method
For The Batter
1. Add the milk, and the Co-op British egg into a bowl
2. Whisk in 160g of Co-op plain flour
3. In a frying pan, heat 10g of Co-op unsalted butter and 1 tsp of vegetable oil
4. Add a large spoonful of batter into the pan and equally distribute it across the pan by swirling, giving it that ideal thin look.
5. Cook for 1-2 mins on each side until golden, flipping in between
6. Make 5 more whilst adding in another tsp of vegetable oil when necessary.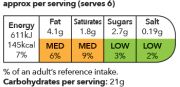 For the Topping
1. Melt the 100g of Co-op Fairtrade dark chocolate in a bowl over simmering water. Please make sure the bowl doesn't touch the water.
2. Top 2 crêpes with 2 tbsp of canned fruit in syrup, 1 tbsp of fat free Greek style yoghurt and a drizzle the melted chocolate over the top.