The Radstock Co-operative Society Is Celebrating 150 Years Of Business!
To commemorate this important milestone in the Society's history, the Radstock Museum is putting on an exhibition of the Society throughout the ages!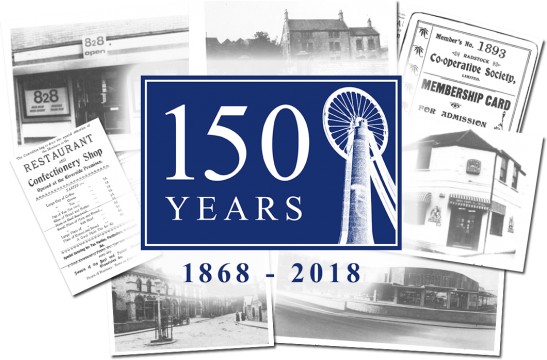 The Exhibition At The Radstock Museum Will Run From May - August 2018
---
Store Celebrations
To mark the 150th year of our existence, we have put together a programme of events which all our stores are participating in. We hope this will be of interest to our customers and we look forward to sharing our celebrations with them.
| | | | |
| --- | --- | --- | --- |
| Store | Event Week | Era | Event Details |
| Weston-super- Mare | 15/04/2018 | 1870 | First FA Cup Final |
| Timsbury | 15/04/2018 | 1880 | The arrival of Coca Cola |
| Warminster | 22/04/2018 | 1890 | Inventions of the decade |
| Peasedown | 29/04/2018 | 1900 | Grocery Products from the decade |
| Coleford | 06/05/2018 | 1910 | Suffragette Movement |
| Radco | 13/05/2018 | 1860 | Costumes of the 1860s |
| Bridgwater | 13/05/2018 | 1920 | Peaky Blinders |
| Frome | 20/05/2018 | 1930 | Food and Films throughout the decade |
| Shepton Mallet | 27/05/2018 | 1940 | Land Girls/ Army Wear |
| Trowbridge | 03/06/2018 | 1950 | Birth of Rock And Roll |
| Paulton | 10/06/2018 | Early 1960 | The Pop/Fashion scene of the 60s |
| Fromefield | 17/06/2018 | Late 1960 | The World Cup |
| Head Office | 24/06/2018 | Early 1970 | 1970's Window Display |
| Fosseway | 01/07/2018 | Late 1970 | The birth of Punk Rock |
| Chilcompton | 08/07/2018 | Early 1980 | Guinness Records |
| Street | 15/07/2018 | Late 1980 | Back to the 80's |
| Glastonbury | 22/07/2018 | Early 1990 | Stars In Their Eyes |
| Westfield | 29/07/2018 | Late 1990 | Something from each year of the decade |
| Farrington Gurney | 05/08/2018 | 2000 | Sporting Achievements through the decade |
| Chew Magna | 12/08/2018 | 2010 | 150th Birthday Party |